It had been a crazy, relentless last few weeks in California.
I was ramping up my coaching business, teaching virtual fitness classes, hiking daily, taking multiple dog walks, all wedged in with lunches, dinners and visits with family and friends.
On Friday night we had a festive farewell dinner with friends followed by an early morning May 1 departure. I hopped in my car with one of our grown kids and we drove straight through for 10 hours to our home in Portland, Oregon, with one notable pit stop – a delicious lunch at the Heaven On Earth restaurant on Interstate I-5, a place I had been dying to try. I wasn't disappointed.
During the next two days at home, I unpacked, met with a fitness studio manager about getting on the schedule, did a podcast interview about my current coaching passion – how we feel about our bodies and how thoughts can hold us back from a life of possibilities.
By Tuesday morning I woke up feeling somehow off. I was hot but showed no discernible, above-normal temperature on the thermometer.
But by afternoon a growing suspicion was confirmed by the results of a positive COVID-19 home test. Like many of us in the 65 and older crowd, I was no longer among the lucky ones who had avoided Covid for the past three years.
The revelation and resulting illness were like pulling the emergency cord on a train. It was an instant hard stop in my life.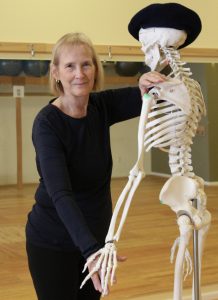 At 71, I'm still an incredibly energetic person, often referred to as an Energizer-Bunny-on steroids by my husband. I take joy inmovement and jump at learning. I revel at launching a new project. But the sickness completely and quickly prioritized my time, attention and energy. My fever creeped up, along with serious body aches. Late that first night I started vomiting, a nasty scenario that lasted for nearly 48 hours. My timer let me know when I could take the next set of anti-nausea meds. The meds kept me from vomiting but didn't relieve the nausea. The fever became constant.
But this log of ailment symptoms doesn't tell the story about the most profound impact of getting ill.
My emotions and my mental health. And I'm beginning to discover I'm not the only one.
As I first got sick, I went into complete survival mode, curling up on the couch, attempting to get meds to stay in my stomach, forcing myself to hydrate, treating the physical symptoms.
Within a few days, I finally began to feel better enough – or bad enough – to begin experiencing the full effects of a solo quarantine and the effects of the virus.
A Covid quarantine is a vastly different experience than having the flu or a non-contagious disease. Quarantine means no face-to-face contact. No quick chats on the sidewalk or taking out the garbage or while walking the dog. Definitely a challenge for an extrovert.
And it wasn't the fantasy about being home alone without my husband and our high-maintenance Yorkie while I efficiently reorganized our home. Instead, it highlighted how uncomfortable I am asking for help. I'm the one who usually steps up to help others without being asked. Now I was forced to figure how to get meds or food delivered without inconveniencing anyone.
For me, the experience of having Covid became an epic emotional crisis.
I felt abandoned.
I felt fragile.
I felt old.
I felt crazy.
But to assign my emotional volatility during this time simply to the stress of quarantining alone is to diminish the impact of this virus. Research is revealing the link between the Covid-19 infection and mental health, resulting in anxiousness, depression, blue moods, paranoia and hypersomnia – sleeping 22 hours a day, followed by a period of insomnia.
I experienced many of these symptoms.
Friends my age have related similar experiences, including someone who said he hallucinated –– literally –– for almost a week if he closed his eyes. But he also had insomnia for the week. It was brutal.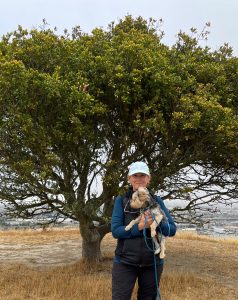 In my case, my husband and our dog were still safely staying 600 miles away in a friend's condo in California, not close enough to provide support. Our grown kids had all gathered in Portland for a four-day birthday celebration and couldn't be in my same air space. My closest friends voiced their concerns as I often dissolved into tears during our conversations – completely out of character for this fiercely independent, competent being.
Adding to my anxiety was one of my biggest fears, that this could be my future  –– aging alone, not aging well, depending on others.
I am now four weeks into my Covid experience. It took 13 days before I tested negative for the virus. I experienced pretty severe fatigue and roller coaster emotions for a month, weeping at the drop of a hat. Actually, it didn't even take that much provocation.
Then one day –– almost four weeks to the day –– I felt better. I felt like myself. My energy returned. I wasn't immobilized by depression.
Now I'm working on hanging on to the best of what Covid taught me –– listen to my body, naps are essential, it's okay to have boundaries and it's also okay to ask for what I need.  I'm surprisingly more present and honest with myself and others. I am having an easier time practicing tending to my own needs first rather than tending to others.
I can embrace this Covid-forced hard stop experience, embrace the lessons.
I don't have to let my to-do list be my master. I don't have to overcommit my time. And every morning I can have make my intention how I will Dynamically Age that day, without judgement, even if doesn't look like what it did a month ago.
This Covid experience was an uncomfortable opportunity to look at aging from a different perspective. And I'm thinking that might not be such a bad thing. It certainly has my attention.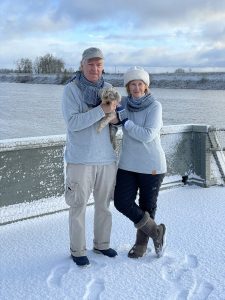 Sylvia Fox is a Dynamic Aging Life Coach who passionately believes we are never too old and never too young to dream big and make choices to support our dreams. She and her husband, Michael Fitzgerald, and their pup Biscuit live on a floating home in Portland, Oregon. She is a dancer, writer, editor, sailor and hiker. She teaches virtual fitness classes through Body Wisdom Studio in Point Richmond, CA. Find her at FitzfoxCoaching.com.