I have always lived the paradox of desiring both home and adventure.
This is how I walk my days. I go big into the world, sometimes weeks, months, even years.  And then I come home. So it is that when I am living in Africa and awash in the wonder and joy of my life, I am thinking of my people at home and wishing for their company. So it is while I am loving and nurturing my grandbabies, caring tenderly for my mother, and hiking the vineyards with my husband, I am yearning to know the people of the world. This is how I am. I hold both worlds in my heart, even as one claims my physical being.
Before I was a skilled teacher, before my husband was a veterinarian, before we were parents, we were Peace Corps Volunteers.
We were young people with a passion to know and contribute to the world and our early relationship was founded on a vision of what the Peace Corps represents. Our marriage was our springboard to good work.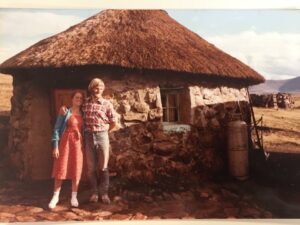 We lived as volunteers in the isolated mountains of Lesotho where neither our schools nor home had electricity or water. People travelled by horseback and foot and did their best to grow crops on the rugged terrain. Most school children were without shoes and sat huddled in blankets during the winter months as teachers etched out lessons on worn chalkboards, shivering in the dark rooms on roughly hewn benches. I do not exaggerate.  Maize was the staple of life for the villagers and was rarely supplemented with essential nutrients until harvest arrived. Daily life required such dogged strength and the notion of comfort or ease was not in the psyche of the women of our village.
All Basotho men and women are known as ntate(father) and 'me(mother) and we, too, became parents to the children of our village. I rode horseback to my schools where I worked with intern teachers in their final year of training, terrified as I traversed the mountains on rocky paths. Kirk taught science, math, and English at the high school, built a greenhouse for the students, and tutored long into the evening.  We learned to speak Sesotho, to cook papa and moroho, (maize and wild greens), to build an outhouse and a chicken coop, to create teaching aids, write stories for the children, and obtain a grant for building a roof. We learned that giving our hearts meant giving our daily action to the children, teachers, and neighbors.  Going home after two years was both heartbreaking and hopeful. I was pregnant with our first child.
In subsequent decades, my husband and I raised our own children, earned degrees and certifications and eventually settled in the Finger Lakes in Upstate New York. We bought the local veterinary practice and I began teaching at the very school I had attended as a girl. I loved our home that extended from our old country house to the veterinary hospital to the school. Those were rich days filled with good work, community service, and good play. But our kids grew up and made their way to their own lives. For me and Kirk, there was a missing, a sadness for what was lost and our home felt empty.  And then, after some time, there was a stirring in my soul. What now? What next?
I remember the first time I read about Peace Corps Response, my eyes widening, my heart racing. Peace Corps is generally a 27-month commitment and the majority of volunteers are young men and women. Peace Corps Response was an adjacent program, inviting older and experienced volunteers to serve around the world. Some assignments were for three months. None were longer than a year.
Could we?
We could. We did. Three times. China. Namibia. Rwanda.
You always have a reason not to go. People, jobs, finances, homes, and pets keep us grounded. Milestone birthdays, graduations, and weddings to attend.  We worry about what we will miss and who will miss us.  But for me, I need to go. For me, I am so happy when I am a Peace Corps Volunteer.
We shed our old skin slowly, with Kirk selling his veterinary practice. For me, I stepped carefully, first relinquishing coaching, advisory, and leadership roles, next taking a year leave of absence and then, retiring from my beloved school.
Three months in China
We were very surprised to be invited to teach English at a Chinese university in the Gansu Province for one semester. We would live in a city of one million people. We would live in an apartment in a building with other foreigners. We would receive just five days of training. Oh my.  This was not the Peace Corps of our youth but perhaps we could be brave.
Brave we were. Our three months in China were a powerful barrage of learning and growing. Each day required an acceptance of the unknown and a readiness to teach in a country where we were nascent pupils ourselves. Our task was to improve English speaking skills and develop the new Oral English curriculum.
If you ever get the chance to go to the Gansu Province and meet the people of Zhangye, you must go. You must go into the tiny restaurants and order without knowing what food you have asked for and then swoon over steamy bowls of broth and noodles. You must sit with strangers and gesture and smile until hearts meet and understanding is garnered. You must ride on a train and have small children placed in your lap as you eat oranges and sunflower seeds that have been gifted to you. You must go into dark temples and pray before the reclining Buddha and ask for the safety of your family, even if you are agnostic like me. You must go to the portion of the Great Wall where tourists do not travel and feel the wind sweep the ancient history into your bones.
On the day we left China, I wept. In three short months, I had fallen in love with a people and a place I had never known. And a week later, we were flying to South Africa to make our way to Namibia where we would live for the next nine months. We would be Peace Corps Volunteers in Africa, once again.
On to Namibia
People sometimes ask me," if you could only go to one country in Africa, what would it be?" I tell them to go to Namibia where the land and the people are as diverse as ten countries. Of course, one must go to the Etosha Pan and feel your soul moved by the elephants, giraffe, lion, rhino, zebra and such. Of course, you must go to Soussevlei where climbing the world's largest dunes will take your breath away. You must go to the Skeleton Coast where the raging sea and rocky coast will chill your body and stoke your soul. You can visit the land of at least ten ethnic groups and study the harrowing history of the Herero and the Nama.
Or you could go to a boarding school in the desert and teach eighth graders how to speak, read, and write in English. You can coach track and cringe with worry as the runners race barefooted across the rocky ground. You can re-open a library that closed 20 years ago and fill the air with dust as you wipe off each book.  You can start a poetry club and hold back your tears as the stories of the children unfold. You can start an art club because even though you have no skill to offer, you can see that the students do.  You can begin a chess club with one of your favorite teachers and watch the fierce competitions unfold.  You can bake cookies for the children at the orphanage and fly kites and play tag. And never ever rest for there is so much to be done.  When you leave, a young girl will sing softly to you and your tears will mingle. Your heart will be filled with love and gratitude and sorrow.
And then history and heartbreak of Rwanda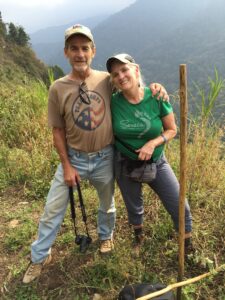 I never dreamed I would go to live in Rwanda where genocide once swept through the land and 800,000 people were murdered in 100 days. I never dreamed I would live in the land of one thousand hills and become neighbors with both the Hutu and Tsutsi. I did not know that the country had healed enough to live in peace. I did not know that the Peace Corps had returned to provide help in agriculture, business, and education.
Kirk and I joined a small group of Response volunteers at the Peace Corps Office in Kigali for a ten-day training. We studied Kinyarwanda and learned basic greetings and exchanges. We learned about the technical school where we would be teaching, the goal of developing English-speaking skills related to the vocations of our students. And we visited the Genocide Memorial where 250,000 victims are interred.  Hundreds of thousands of the remains of people who had been slaughtered are buried throughout the country.  We laid a wreath and wept. And wept. The children's room seared our beings.
Kigali is a beautiful city with a pristine center and modern development. But make your way to our village and see the paved roads give way to dirt and rock paths. Hold your breath as the Peace Corps truck descends into craters and your head bangs against the window. Up and round the mountains with only a prayer to hold on to. Lush greenery everywhere. Bananas and mangos and avocados. Women carrying the world upon their heads. Small shacks, mud huts, goats, and sheep. Arrive at our boarding school and exhale. Wash your face and hands and begin your work.
We learned to navigate our way to the small shops where only Kinyarwandan was spoken. We made our way through the market where my cheeks flushed as sellers yelled  "Mizungu" (white person). So many children swarmed around us wherever we went, rubbing our skin and hair, crowding so tightly that I thought I would faint.  We climbed mountains and rode our bicycles for miles.
And we became a part of our village. Called by name, not by mizungu. Holding hands and laughing with the children. Asking the shop owner "Ndaka shaka……"  "I would like….." Joining the students for 5 a.m. runs on Saturday mornings. Building roads on Umuganda, the monthly day of service. Baking cakes with colleagues. Kirk playing soccer with the staff.  Teaching with all I knew. Teaching with all my heart. Learning with all my heart. Oh, I was happy.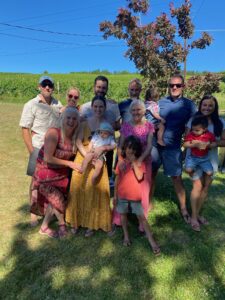 Home to family
Now home again with our extended family in the Finger Lakes, I hiked through the snowy vineyards with my husband and the quiet beauty filled me right up. I cooked the most delicious whole grain blueberry pancakes, served them with NYS maple syrup and coffee grown in Uganda where our daughter and her husband served two years as Peace Corps Volunteers.  My son and his pregnant wife sat with us and we talked of our grandchild, who will soon come into the world.  My California son texts me that my first born grandson has declared that I bake the best cookies: "Grandma Riri is the record holder".  We have facetimed with my daughter and her one-year-old son in Baltimore. His sweet face lit with joy to see us. Ours, to see him.
As I write, I can hear the music coming from the basement where my husband is working on a project. He sings along to The Band and I smile to hear him.   I am well aware of the ebb and flow of my life's journeys, the times of big doings, the times of quietude. I know, right now, small doings are just right.
And I know my next journey is just around the corner.
The Wonder of Teaching and Learning
Marie Fitzsimmons, 64, is a retired high school social studies teacher and four time Peace Corps Volunteer. She lives in an old farmhouse on Seneca Lake in Upstate New York with her husband Kirk and revels in vineyard hikes, forest trail runs, and calm water kayaking. She and Kirk have three grown children and are looking forward to the arrival of their fifth grandchild. She and Kirk will soon be joining Peace Corps friends to hike Machu Picchu for Kirk's 68th birthday.