At age 63, when most of my friends were retired or actively planning to do so, I enrolled in a three-year doctoral program. It was a 25 hour-a-week gig on top of my full-time job, only worse. It was an unpaid gig and it would drain my bank account at a time when I should have been building a nest egg.
But 'should' gets my back up.
Who gets to decide when I should be planning my retirement, when I should be slowing down to enjoy life, or when I should be jumping off the hamster wheel of work? Not just society, apparently, but my own friends too.
"It's a bit late to start a doctoral program, isn't it?" one incredulous friend asked. Late for what, though? To challenge myself to build new skills while discovering hidden strengths? To broaden my perspective and understanding about important topics related to education equity? Never too late, at least not for me.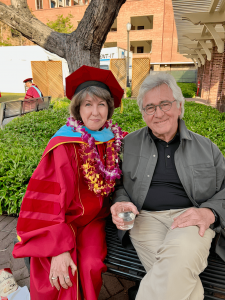 Wonderfully unsettling about my decision is that I learned more about myself than I expected or bargained for. Yes, I now know how to do research (ask me anything about mixed methods and descriptive statistics!) and write a dissertation. But discovering my own biases, my own fixed beliefs, and becoming aware of my limited experience with addressing enduring disparities for marginalized groups was an uncharted walk in the wilderness.
Ultimately, I rediscovered my passion for learning, even though I didn't even realize I had lost it.
My troubles began when I got to first grade. A reader already and a sponge for information, I was the annoying kid in class, always frantically waving my arm and always eager to share the answer. I knew things! Teachers stopped calling on me or praising me –– they were desperate to get the other kids to participate. I had to rely on report cards to prove my worth. A stellar report card of all A's was praiseworthy from parents with high standards, but it came at a cost. An occasional "B" garnered their disappointment. The unspoken message was, "You can do better."
High grades were the currency that purchased and maintained my identity during school years, and were converted into performance ratings in the world of work. If other people rated me as outstanding or exceeding expectations, it must be true. I had no internal compass, no other measurement of my worth. I could not afford to fail or be less than my best, and yet I left it to others and their ratings to tell me what 'best' was.
My dream of attaining a doctorate almost crashed spectacularly in the first semester. I was 25 years past my Masters degree and rusty on writing academically. I struggled to complete the assignments, failing three times to 'get it right' in the style and manner required. Desperate to get traction on the final 25-page assignment for the class, I did something foreign to me. Instead of writing about topics I thought were safe, meaning I had expertise, I pivoted to a topic I knew nothing about. I had to take a beginner's mind and learn all about the problem I was going to write about. I enjoyed researching and writing about a new subject and was stunned to get a perfect mark on my paper.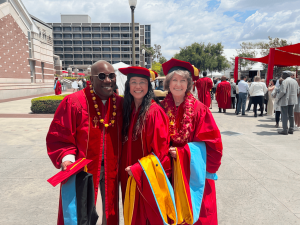 Another awakening was about how limited my own perspective can be. In a cohort of about 100 people from multiple racial and ethnic backgrounds from all over the world, from every industry, it was not long before my own biases and assumptions surfaced. I was initially bewildered and uncomfortable, especially when realizing how my own privilege was invisible to me. Over time I was honored to witness the courage and vulnerability with which many of my classmates had to negotiate their daily lives, attending to things I never had to worry about, such as being stopped for no reason other than the color of your skin.
It was through these encounters that I realized that a doctoral program is not about getting a good grade or a competition with anyone. By the time I got to my final defense, I knew my work was good. I knew I was a better person from the learning and the self-reflection.
I was also proud of how I weathered other life events, including being laid off from my job in the middle of my program, which is like getting an F on your report card, but which I refused to let define my worth. I knew I was good at what I do and I had a strong network of support. I developed a routine that helped me survive, and I found freedom in the discipline of writing, re-writing, and gathering more and more citations every night and most weekends. Five chapters later I had 249 pages' worth of research, findings and recommendations to share with the world. While I was delighted to hear that my professor nominated my paper for an award of distinction, it did not matter whether I won or not (I didn't). I simply loved my research, and what I learned along the way.
What I treasure most from my experience is that I shattered the mirror that reflected me back to myself. I let go of the dependency on getting good grades or on others' opinions of how I performed. I returned to the company from which I was laid off, now in a wonderful and fulfilling role. Most importantly, I fell in love with learning again. I could only do so by regaining my curiosity, my willingness to be in awe, and by appreciating the journey of discovery. I know things! Learning is hot! And it is never, ever too late.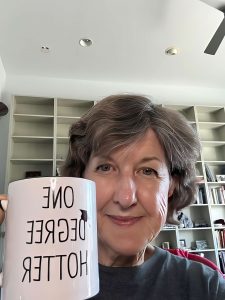 For over 25 years, Dr. Christine Barnes has combined her organization development and coaching expertise to influence leaders as they strive to create better organizations. Her passion for inspiring others to create change resulted in her doctoral research on inclusionary practices of leaders. She is committed to lifelong learning.