One of the best Christmases I ever had was when I was eleven years old. I opened the sliding doors and saw two bicycles, one for me and one for my brother. Now I could "ride bikes" with friends and get a job as a paperboy.
And I have never stopped riding since.
Literally.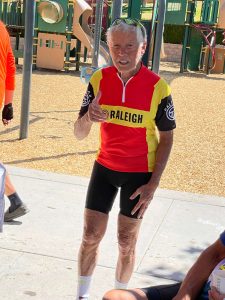 I have ridden bicycles to school, to work, on self-contained camping trips, and on cross country trips. I rode mostly because it was fun, cheaper than a car, and was outdoor exercise.
And for me, at 86, riding still doesn't have an end date.
• At age 75, I rode across the country, the last 30 days solo.
• In 2014, at age 77, I rode across the country with my son and with two others from my bicycle club.
• And in 2017, at age 80, I rode cross country again with my son, a friend, and two more from my bicycle club.
Riding a bike is a solo activity. While there are professional cycling teams, most cyclists ride by themselves or in small groups with friends. Except for my self-contained trips with friends, I mostly rode alone, especially when training for many long-distance events. I enjoyed riding alone because I could ride anytime and anywhere I wanted.
When I retired in 1992 at age 55, I was unmarried, and wanted to buy a van and tour the USA with my bike and running shoes. (I was also a marathon runner). Instead, I met and married Susan (who was also a marathon runner and a long-distance bike rider) in 1994 and we DID buy a van and we DID move to New Hampshire for eight months where we biked and ran.
In the late nineties and early aughts, I wanted to test myself for solo long-distance bike riding so I entered organized long-distance events, distances covering all kinds of terrain in all kinds of weather and with time limits. It did not matter your age. Every rider was held to the same rules.
I joined a cycling group called Randonneurs USA that promotes long distance unsupported cycling. The style is non-competitive and self-sufficient and you must complete four rides of increasing distances to qualify for a 1200 Km (750 mile) Randonnee.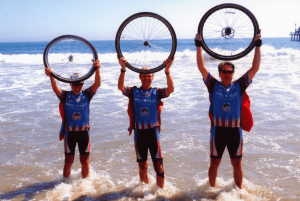 In July, 2005, I qualified for a Randonnee in Davis, CA, but I did not finish. I was not properly trained nor did I have the proper bicycle for such a long distance. It was too heavy. I was not discouraged and made another effort to complete a Randonee.
In September 2006, I qualified for the Colorado Last Chance "Venture to Kansas" 1200 Km Randonnee. The time limit was still 90 hours and, again, I failed to complete the ride. I thought I had trained properly, had a proper bike, but hubris overtook me. I thought that based on my training and previous experiences that I would breeze through the ride. Nope, didn't happen. I overslept, I rode alone (not a good thing), and I suffered a boil on my rear to the point where sitting on the saddle was very painful. I rode 625 miles before the "SAG" wagon (support vehicle for cyclists) picked me up in Last Chance, Colorado. I was NOT in Kansas anymore, Toto.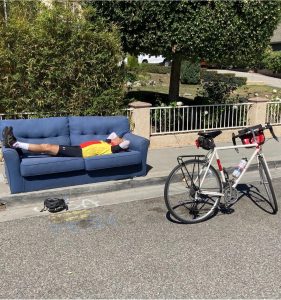 I got home the next night, sat in an Epsom Salted bathtub for the boil and pondered what I was going to do next. I was 69 years old and my wife, Susan, wondered if I should continue riding alone. I agreed with her and it was at that point that I remembered that I had a business card from a fellow I happened to ride with on a long distant event a year earlier. He was the co-president of the Old Kranks, a bicycle club situated in Westlake Village that welcomed any and all riders, men and women, over the age of 50.
I live in Newbury Park just a few miles from Westlake Village, and in October, 2006, I joined the Old Kranks. I could not beat the annual fee of $5 and it also felt like a new beginning, a chance to ride with riders both younger and older than me, in order to keep fit, enjoy the outdoors on a bike, make new friends, and more importantly have fun. I was not disappointed.
It was inspiring to ride with 80-year-old guys, elderly (75+) retired couples, ex-professional and amateur bike racers, and with people who started with the club in 1986 in their late 50s who were continuing to ride until they decided they should not ride anymore due to diminishing bike riding skills. When they decided not to ride anymore, they continued to come to the "after ride coffee klatch" at Gelson's market at the end of our neighborhood rides.
That those inactive ex-Kranks continue to be involved, socially, with the riding Kranks speaks well of our culture of really being a social club that just happens to ride bicycles. Besides riding together, we party together, lunch together, laugh and cry together, and continue to be inspirations to our fellow riders, to our families, and to our friends.
At age 86, my dynamic aging continues on a well-worn and active path to where I do not know. I only know that if I have any more fun than I am having now, it would be a sin. I still ride with my motto: "Start slow…then taper."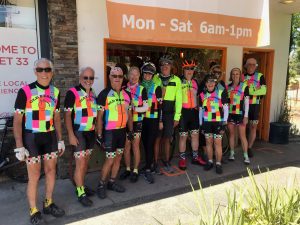 I was born on May 31, 1937, in East Los Angeles, raised in East Hollywood, graduated in 1954 from Hollywood High School, worked for the Survey Division of the City of Los Angeles for 35 years, raised a family in the San Fernando Valley, and graduated from CSUN in 2000 with a BA in history.